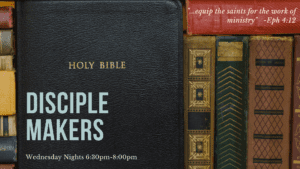 Church Family,
This past Sunday, we announced that on Wednesday, September 4th we will have an information night about our first ever Disciple-Makers Class. Disciple-Makers is designed to help equip and encourage a follower of Christ to fulfill their responsibility of making disciples.  It is a two-semester course that covers a variety of foundational beliefs, efficient ways to read Scripture with believers and non-believers, and the ins and outs of how we change.  On average, it will require about 30-45 minutes of reading each week before the class.  Then, each Wednesday from 6:30pm-8pm, there will be discussion and practice reading Scripture with others.
If there was anything on our church calendar that better communicates our heart-beat, it is this class.  We are deeply passionate about God's Word and letting it permeate our life together, especially in discipleship.  Discipleship means helping each other to know and follow God more. We strive to intentionally be in each other's lives so that we can build healthy, transparent relationships to help one another have greater faith in Christ.  But if we are honest, that is not easy!  There is great anxiety we feel when trying to understand and to communicate the truths of Scripture to one another.  This often paralyzes us to do nothing.  Here at Light in the Desert Church, we want to ease that anxiety by training us all to handle God's Word well and how to deal with tough issues that will inevitably come up when we open our lives to each other.  Mark your calendars and plan on being here on September 4th at 6:30 pm.
Please register below so we can be prepared with packets and books!